Why Shop Barnes Jewelry
Our Promise to You:
Thanks for stopping by our website! We hope you'll come in our store and experience how much fun shopping for jewelry can be.
We promise we'll do everything we can to make you feel comfortable. Whether you're sixteen or sixty, in jeans or a suit, looking for a thirty dollar pair of earrings or a thirty thousand dollar engagement ring, it doesn't matter. We just want to be your jeweler.
---
Say It Like You Mean It:
There's no denying the impact of a piece of fine jewelry. It tells the people closest to you that they're more precious than diamonds and more valuable than gold. People cherish gifts like that. They keep them forever and then pass them down to the next generation.
Commemorating special occasions is what Barnes Jewelry is all about. It's what we've been about since 1956. Whether you come in looking for the perfect engagement ring, to celebrate an anniversary, or to shop for a new timepiece; you're coming to the right place.
---
Shopping for Diamonds:
Shopping for diamonds gets awfully confusing if you don't know what you're looking at. That's why a little education goes a long way. Spend a few moments going through our guide to the 4C's and it could turn out to save you hundreds, possibly thousands of dollars.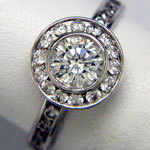 If you're already fairly knowledgeable about diamonds and you just want to know how our prices stack up, feel free to call us for prices or come in and browse our loose diamond inventory. Or email us and arrange to come in and see the diamond in person at the store where you can compare it side by side with other diamonds. The diamonds you see on the web are basically virtual stones with a scan of a piece of paper describing the diamond. There is nothing that compares to actually seeing the diamonds for real.
---
Home of the Good Buys:
Have you heard about the Good Buys Case? It's a special place dedicated solely to the rings, bracelets, watches, earrings and other jewelry and giftware we've had just a little too long. Beautiful merchandise marked up to 50% off. And we always like to keep it interesting by throwing in some things you wouldn't expect to see in a discount case.